In April 2012, Tim Meeks was at a music product trade show in Anaheim, California, when he got a tap on the shoulder. Stevie Wonder was in town. He had heard about the instrument Meeks had invented – a guitar-piano hybrid called the harpejji – and wanted to give it a go. Minutes later, the two men were hunched over the instrument flanked by five bodyguards, as Meeks moved the blind musician's thumbs and forefingers across the fretboard to demonstrate how to play. "I love it," said Wonder. "How soon can I get one?"
This was a turning point for Meeks, who has built and sold harpejjis from a workshop in Maryland since 2007. Initially, sales were slow. But a decade's worth of harpejji performances by Wonder – plus support from Jacob Collier, Harry Connick Jr and jazz producer Cory Henry – have changed that. Now, Marcodi Musical Products, Meeks' company, has sold nearly 1,500 of them, making him one of the few people alive to have invented a successful new instrument.
"I'm a very average musician. The thought of me showing Stevie Wonder how to play something is just absurd," says Meeks. "But it's all about the artists. Stevie can choose any instrument he wants to, and if he wants to play this one, people better pay attention."
A full-size harpejji is about a metre long and sells for £5,100. The flat, birch body holds 24 strings with frets beneath. It works a bit like a piano – but instead of pressing a key you're pressing the strings – and a bit like an electric guitar, where magnetic pickups send the sound to an amplifier. "I wanted it to sound like an organic stringed instrument, but use my piano chops rather than learn guitar for three years," Meeks says. "I guess a lot of the best inventions come out of laziness."
The timbre is guitar-like; the notes run in whole tones across the strings and semitones up the frets, yielding fresh harmonic possibilities. "I had thousands of sounds available on a keyboard but none of them felt right," Meeks says. "I wasn't trying to dazzle the world with a new sound, rather find a fresh way to think about playing music."
Instrument design is a fast-evolving field. Whole schools are even devoted to it. Queen Mary University and Imperial College London jointly run The Augmented Instruments Laboratory, where researcher Lia Mice has developed, among other things, a one-handed violin (designed for people with disabilities) and chaos bells – a 4 sq metre frame of steel tubes that the player touches, tilts and strikes to produce a cacophonous metallic feedback loop.
There is even a gold-standard annual contest for inventors: the Guthman Musical Instrument Competition, run by the Georgia Institute of Technology in Atlanta. This year's winner was the zen flute: via a mouthpiece, it digitally translates the shape of your mouth into sound. There was also a synthesiser controlled by an abacus, and a microtonal clarinet that, rather than using tone holes, has a flexible electromagnetic strip to control pitch.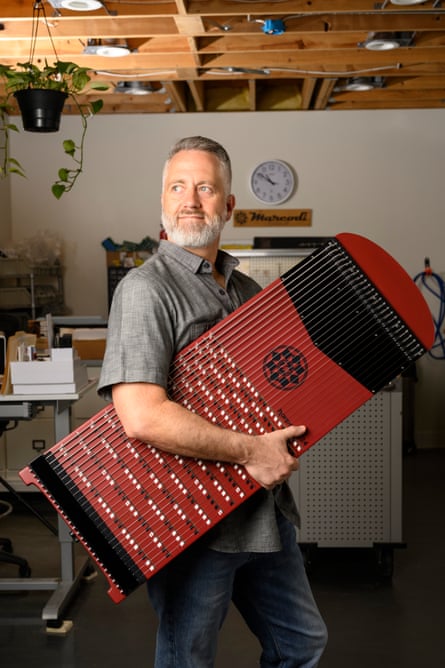 Nonetheless, even the most esteemed inventions rarely make it past the prototype stage. While the 20th century brought electric guitars, drum machines and synthesisers, popularising a new instrument is now trickier.
Part of the problem is that artists can produce any sound under the sun using a computer, says Steve Dunnington, product development chief at Moog, the company that developed the first commercially available synthesiser in 1964. "For many musicians, making music happens by typing lines of code or creating sounds on a DAW [digital audio workstation, such as GarageBand]," he says. "We just tend not to think of it as 'instrumental' in the same way because they're not holding something, blowing air into it or whacking it."
Meeks thinks many inventors are going down technological rabbit holes rather than making something usable. Most musicians "just want to have a voice", he says. "A lot of these [instruments] are cool, they have features and they are powerful. But does anybody really want to play them, learn them or go and see someone else perform on them?"
Of course, not all inventions are dreamed up with others in mind. For Mice, the chaos bells inventor, crafting the instrument is part of making her music. "Plus," she adds, "there's something super punk rock about making your own instrument."
The harpejji, meanwhile, is on course to exceed $1m of sales in 2023 – a record year – and Marcodi Musical Products recently moved to bigger premises near Baltimore. Meeks even had another "monumental" moment at the end of July, working in his new office with a Spotify-curated playlist on in the background. "About six songs in I realised: 'Wait a minute, I recognise that sound.'"
The track was Harpejji I by Vulfmon (AKA Jack Stratton, drummer of the cult funk outfit Vulfpeck), which features the instrument. "That's the first time since founding the company that harpejji music came to my ears randomly without me seeking it out," he says. "Now I truly feel like it's got a life of its own."