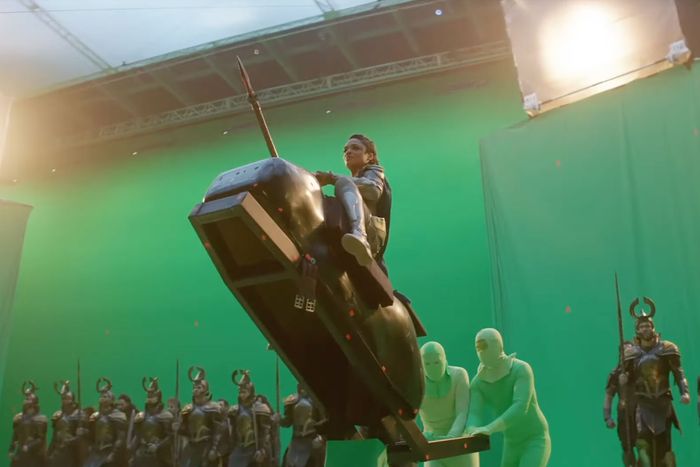 A supermajority of Marvel's 52-member on-set production crew signed authorization cards indicating they wish to be represented by the International Alliance of Theatrical Stage Employees.
Photo: Marvel Entertainment
Call it the Hollywood-labor-organizing version of Avengers Assemble! On the heels of more than a year's worth of damning disclosures around Marvel Studios' systematic overworking and underpayment of visual-effects workers on its blockbuster movies and streaming series, VFX crews at Marvel have finally petitioned to demand union recognition from the studio. On Monday, a group of more than 50 on-set employees filed a petition for an election to be represented by the International Alliance of Theatrical Stage Employees (IATSE) with the National Labor Relations Board. The workers are asking for the election to be held as early as August 21.
This marks the first time visual-effects professionals have banded together to demand the same rights, wage protections, and professional watchdog oversight enjoyed by workers in almost every other segment of the entertainment industry. The supermajority of Marvel's 52-member on-set production crew signed authorization cards to indicate they wish to be represented by the powerful labor union representing some 170,000 artisans, technicians, stagehands, and craftspeople across TV, film, and live theater in the United States and Canada.
"For almost half a century, workers in the visual-effects industry have been denied the same protections and benefits their coworkers and crewmates have relied upon since the beginning of the Hollywood film industry," VFX organizer for IATSE Mark Patch said in a statement. "This is a historic first step for VFX workers coming together with a collective voice demanding respect for what we do."
In an era when around 90 percent of all films in release feature varying degrees of VFX fine-tuning (and it's not uncommon for a show like Stranger Things to showcase up to 4,400 visual-effects shots across a single season), workers within the field have remained stubbornly, confoundingly unrepresented by any professional union or guild. While fellow below-the-line workers in such divisions as costumes and wardrobe; hair and makeup; lighting, props and paint; and script supervision have been historically championed by IATSE, underappreciated VFX professionals have been unable to claim benefits such as paid overtime and health care, and have been at the mercy of pronounced labor shortages and managers' unrealistic deadlines — despite the workers' increasing indispensability within popular culture.
"Turnaround times don't apply to us, protected hours don't apply to us, and pay equity doesn't apply to us," said VFX coordinator Bella Huffman. "Visual effects must become a sustainable and safe department for everyone who's suffered far too long and for all newcomers who need to know they won't be exploited."
The petition for voluntary union recognition from Marvel and its parent company, Disney, arrives amid what the Los Angeles Times has taken to calling the "hot labor summer": a cultural inflection point when both the Writers Guild and Screen Actors Guild are on strike against the Alliance of Motion Picture and Television Producers, halting productions across Hollywood and throwing the upcoming movie-release corridor into chaos. Just as crucially, however, VFX's newly strident demands for a seat at the collective-bargaining table also play out against a backdrop of increasing fan displeasure with (and critical opprobrium toward) the quality of computer-generated imagery in Marvel Studios movies and series, coming perhaps not coincidentally just months after the firing of Marvel's president of postproduction and VFX, Victoria Alonso.
Even with the group's NLRB petition, a VFX workers strike is not out of the question; it is perhaps the most battle-tested and surefire route to union recognition. (Representatives at Disney and Marvel did not respond to requests for comment from Vulture.)
Leading off the collective-bargaining push with Marvel's on-set VFX specialists — data wranglers, production managers, witness camera operators, and assistants employed on such MCU series as Loki and Daredevil: Born Again, as opposed to the people supplying visual effects in postproduction — arrives as no accident. Thanks to the studio's fire hose of movie and TV series output (it will oversee the release of five movies and four shows in 2023 alone), Marvel is regarded in VFX circles as the industry's biggest "bully," with the capacity to flood effects houses with more work than they know what to do with or ruin careers and standings of those who do not live up to Marvel's sky-high expectations.
Hence, as the thinking goes, securing union recognition for a relatively small yet high-profile group of Marvel's so-called "production-side" professionals would stand as proof of concept for the overall viability of an industry-wide unionization push. Production-side unity would lead to solidarity at postproduction houses, which would then, in turn, unionize one by one, leading to an inevitable tipping point. The template for this sort of thing was set in the animation world last February when production workers for Adult Swim's Rick & Morty and Hulu's Solar Opposites filed a petition with the NLRB for a union election, sparking a new wave of unionization for workers throughout the animation industry by becoming the first to be represented by the IATSE-affiliated Animation Guild. Soon after, workers at the Los Angeles branch of the award-winning production house Titmouse joined the guild to begin collective bargaining for their first union contract. And those efforts ultimately compelled a coalition of production workers on the shows American Dad, Family Guy, and The Simpsons to also unionize under the Animation Guild, teeing up new collective-bargaining negotiations for increased benefits with 20th Television Animation last summer.
"We are witnessing an unprecedented wave of solidarity that's breaking down old barriers in the industry and proving we're all in this fight together," said IATSE International president Matthew D. Loeb. "That doesn't happen in a vacuum. Entertainment workers everywhere are sticking up for each other's rights; that's what our movement is all about. I congratulate these workers on taking this important step and using their collective voice. I urge Marvel Studios to voluntarily recognize their union immediately."
For the First Time, VFX Workers Vote to Unionize at Marvel