Mobile work phones running in the cloud: safe & instantly available smartphones for your team.
Complete with a phone number, accessible from your browser.
Features
Virtual Smartphone Features
All the features of a physical phone with the added value of the cloud. Accessible anywhere, anytime, from any device with an internet connection.
Secure platform
Operating safely in a datacenter, the cophone virtual smartphone provides a secure bastion for accessing apps and data and for making phone calls.
Browser based
No app, no additional mobile phone. cophone is instantly available and usable in any modern browser, from any device with internet connection.
Phone Calls
Place national and international calls from any device with an internet connection. The virtual smartphone eliminates dependency on the physical phone.
Short Messages
Send and receive texts. Your virtual smartphone is accessible in your browser hence you can read and send your messages from any device.
Online Meetings
Organize or join online meetings. Just like any physical smartphone, your virtual smartphone has webcam and microphone features.
Enterprise SaaS
Virtual Smartphone Benefits
Remotely managed cloud instances
Secure, cloud based storage
Full flexibility to run mobile applications without the resource constraints of a physical smartphone
Create and manage different classes of data and workloads into segregated virtual environments (either business apps on a personal phone or personal apps on a business phone)
Offload expensive security monitoring and analysis from resource constrained smartphones
Provide better visibility into network and data usage
Streaming backup & rapid reconstitution
Application testing, portability, and delivery
Cut the overhead of purchasing, distributing, maintaining and servicing physical smartphone devices.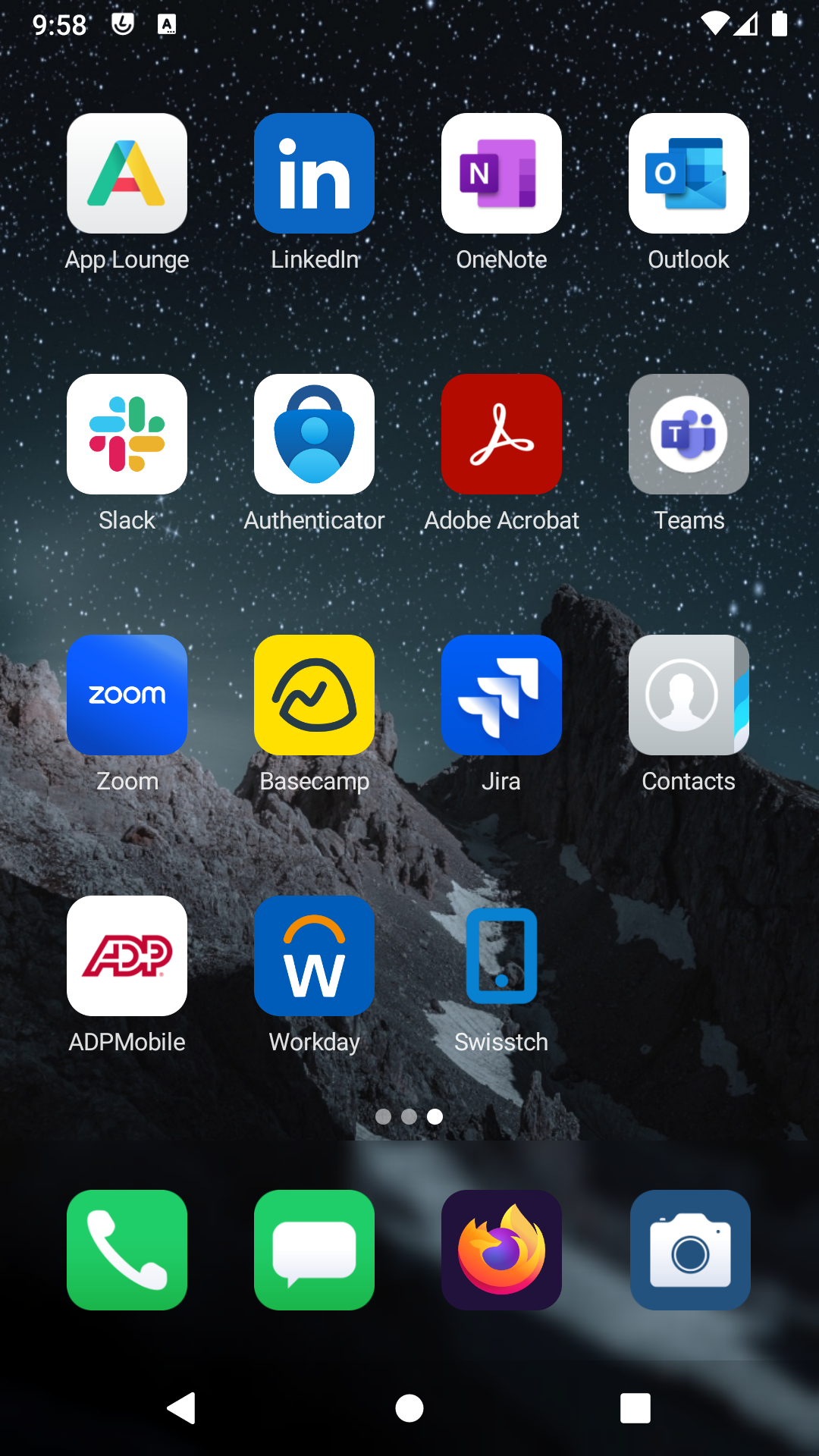 Unlike Voip solutions, cophone offers a complete smartphone solution. This means that besides having a phone number for calls and text messages, you can also install and use all your favorite apps.
Cophones are a perfect replacement for business work phones. They are instantly deployable and can be accessed from any device with a modern browser.
Cophone smartphone instances are running in a secure cloud, independent on which device they are accessed from. Since they are completely detached from the end-user devices, they can be continuously audited and upgraded.
No. Cophone virtual smartphones are accessible in any modern browser, so you don't need to install any app. You can access your cophone virtual smartphone from your desktop, mobile or tablet through any modern browser, without the need to install any other software.
Since cophone virtual smartphones are running in the cloud, they are completely independent from any device that you use to access them from. Cophone virtual smartphones are accessible through any modern browser, just like a website and therefore are completely isolated from your hardware.
Cophone is a highly customizable platform that has been built with flexibility in mind. Please contact us to discuss your use case.
Pricing
Cophone Solutions & Pricing
The cophone virtual smartphone comes with simple pay-as-you-go subscriptions.
Available anywhere
Online meetings
App store
Available anywhere
Online meetings
App store
National phone calls
International phone calls
Short messages
Per usage pricing

Calls and text messages are charged per usage on top of the subscription price.