---
Phone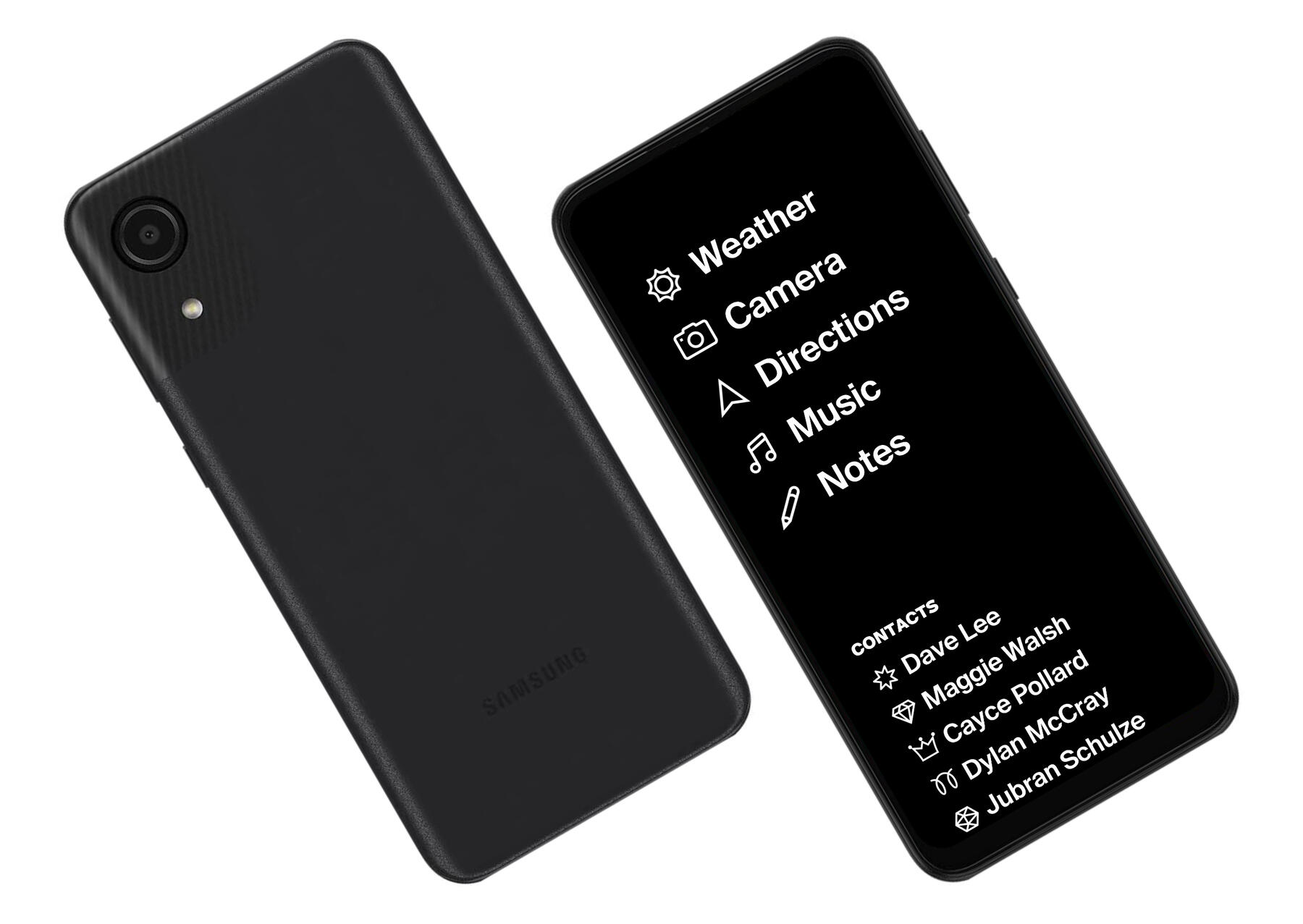 Smartphones in 2023 are hypnotic. Mindless scrolling, a social pacifier, a dopamine bomb.Sure, you could set up a "screen time limit" or go into "focus mode," but that's like putting a meditation room in the middle of a casino.
--- Introducing Ord Phone.
---
Lock screen.

Home screen.
Just the essentials.
Every feature was chosen for its necessity and impact, assessed by the simple question: does it serve an essential function?
---
This is not a technological regression. Ord Phone epitomizes a conscious advancement in technology, spotlighting only what truly counts.
---
---
Communicate.
Meaningful communication forms the cornerstone of our lives. Your conversations, your words, your thoughts, are the main event, not the apps or the notifications.
Scroll down from the home screen to see contacts.

An SMS chat.

An ongoing call.
Music and podcasts.
Music can resonate with our deepest emotions, while podcasts are a conduit for curiosity. We encapsulate these dual facets of audio entertainment as essential. Sync your Spotify playlists, play local MP3 files, and subscribe to podcast feeds.
A playlist from Spotify.

Music playback. Tap anywhere to pause or play.

Podcast playback from an RSS feed.
---
Camera
Double tap to flip cameras.
Navigation
Transportation modes at a glance, including the ability to book a Lyft or Uber ride.

Turn-by-turn navigation.
---
Light mode.
In airplane mode.

Podcast playback.

An SMS chat.
Life — a simple four-letter word, but with profound depths of meaning. Life is the series of moments that make up our existence, the relationships that shape us, the dreams that propel us forward, the achievements that motivate us, and the failures that educate us.In today's digital world, we're at risk of losing the essence of what life truly is. We are so entangled in the web of digital platforms, constantly scrolling, constantly connected, that we forget to stop and live. We forget that life exists beyond our screens. We've allowed our smartphones to smartly outlive us.But there is technology that truly adds value to life. We've distilled those essential elements into the Ord Phone.
COMPLETE LIST OF TOOLS
SMS, Calls, Camera, Weather, Directions, Spotify Playback, Local MP3 Playback, Podcasts, Notes, Calculator, Wi-Fi Hotspot Tethering, Bluetooth, Flashlight, Rideshare Booking (Uber, Lyft)SPECS
6.5″ 720 x 1600 pixel display
32GB of storage, 2GB of ram
5000mAh battery
3.5mm headphone jack
Micro-USB chargerCAMERA
Rear camera: 8MP, f/2.0
Front camera: 5MP, f/2.2CELLULAR
LTE, GSM, UMTS. Tested in the United States on T-Mobile, AT&T, and MetroPCS. Not compatible with Verizon.
2G GSM: 850/900/1800/1900, 3G: 850/900/1700(AWS)/1900/2100, 4G LTE: B1(2100), B2(1900), B3(1800), B4(AWS), B5(850), B7(2600), B8(900), B12(700), B17(700), B28(700), B38(2600), B40(2300), B41(2500), B66(AWS-3) – Dual SIM
OK, here's the deal
The Ord Phone doesn't actually exist… yet. This is a concept website created by an experimental product studio in New York.We want to see if there's a need for a product like Ord Phone, and whether people would actually pay for it.And you tried to… but we didn't actually charge your card or store your payment information.We might actually make Ord Phone if enough people try to buy it! If we do, we have your email address, so you'll be the first to know 🙂In the meantime, please don't share online that the product doesn't exist yet. At least until we've finished running this little experiment.<- Back home
Ord Phone
Pre-order today at a discounted price. Orders ship by November 2023 from San Francisco, CA. Short production run, these will sell out very soon.
Free shipping to anywhere in the world. Return for any reason within 2 weeks of receiving your order.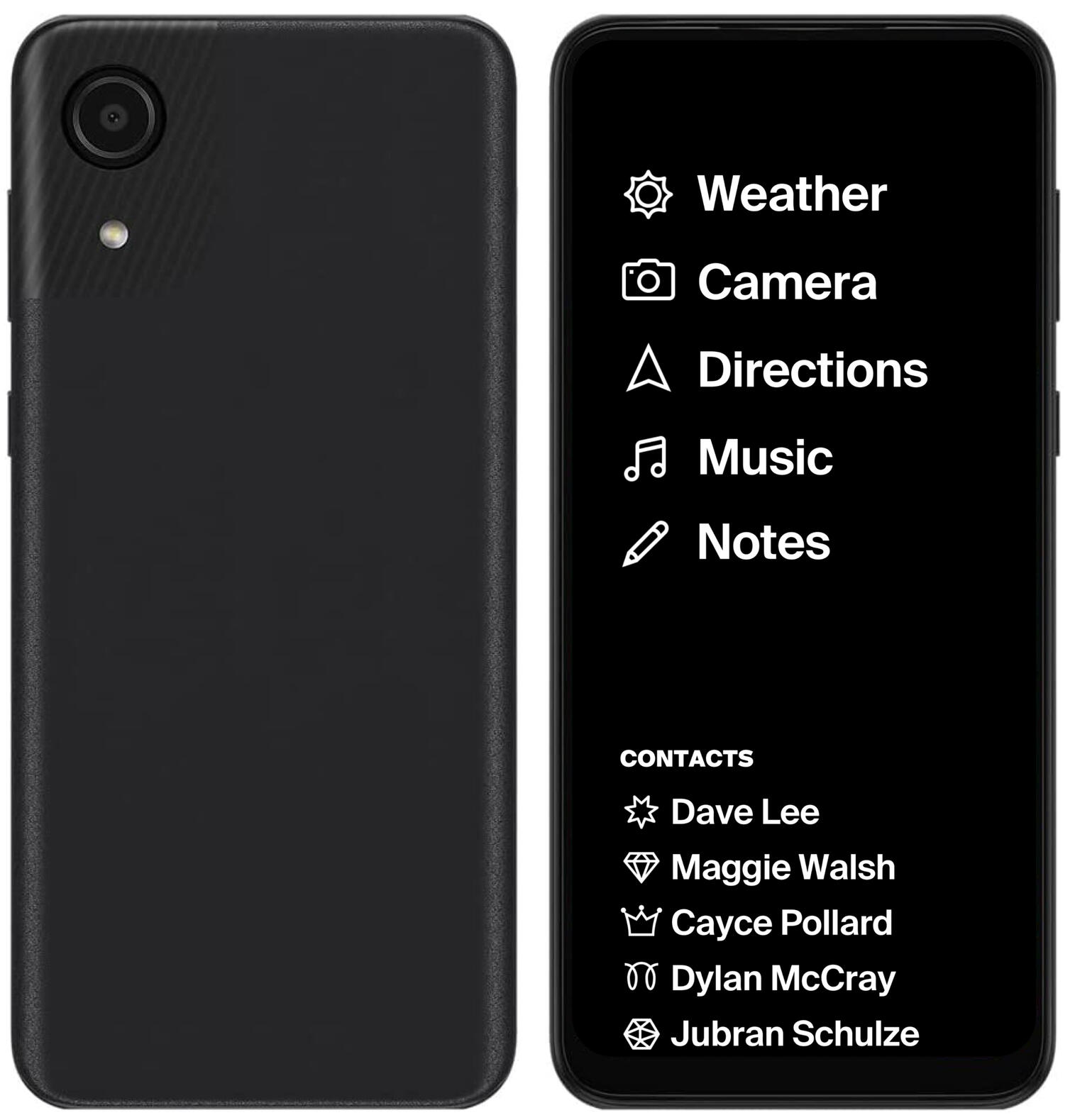 $350
Secure payments by Stripe.